With the Great Depression in the 1930s came the government offer of seventy-five-acre, northern homesteads to those willing to clear land, sell the pulpwood and farm. A priest from Montreal organized a group of Slovaks to start a colony eight miles south of Hearst, on Concessions 2 and 3, Kendall Township, along the road to Stavert/Jogues, now Highway 583.
Slovak immigration to Canada ad.
The men came first, made small clearings and built one-room log cabins. They chinked the logs with a mixture of moss, mud and straw, then covered the walls with heavy paper. The floors were rough-sawn board over log; the roofs, poplar shingles over log. With modest conveniences in place, the women were sent for. Settling the colony was back-breaking work; trees were felled for pulpwood and stumps removed by hand. Horse-drawn wagons and sleighs were the only means of transportation. The women walked to town for affordable essentials, but with the road only passable in dry weather, often carried supplies on their backs. At first they used lard cans to cook in until they could afford pots and pans. In 1931-32, the outlook for survival improved when it was discovered that gardens were viable, and cows and goats could survive on tree leaves, until the hay fields became productive. By 1933, most people had at east one horse and many worked together to make teams.
In 1933, with thirty school-aged children, the colony requested a school from the Department of Education. A public school named S.S. Kendall No. 4 was approved. Jan Bies provided a school site, and the community provided free labour to put up a log building. Stella Drajanoff became the first teacher. On weekends, she would walk two miles to the highway corner to meet her friend, Ruby Reid, who made a similar walk up from Stavert, where she was teaching. Stella's father, Slavko, would meet them and take them to Hearst in his horse and cutter. This walk was often interrupted along the way, as Stella assisted many of the settlers with translation of letters, government documents and orders from the Eaton's catalogue. Later, she had skis made by a Finn trapper and was able to ski to town along a bush track, which cut the distance. The school served the families of the Slovak community until it closed in 1949. The last teacher was Mary Sawryga (Mrs. Alex Bubnick). Children from other concessions -- the Ernest Martin family from Concession 4 (seventeen children) and the Bubnick family -- also attended. A former student, John Wydareny, went on to a successful career in the Canadian Football League, starring with the Toronto Argonauts and the Edmonton Eskimos in the '60s, before embarking on an equally successful career in education.
The colony petitioned the government for a post office, which was granted and set up in Paul Svos' General Store, on January 3, 1936. Paul became postmaster. It served the colony and the area until it closed in 1944.
A vote was held to decide on a name for their community. One suggestion was to name it after the first child born into the new settlement, which turned out to be Pauline Kuhayda. Other possibilities had them going through community names from Slovakia. Eventually, it was narrowed down to Bratislava (premier city of Slovakia) or Bradlo (the final resting place of Milan Rastislav Stefanik, a Slovak general and hero of the First World War). Bradlo carried the day.
Eventually Bradlo, Canada, became home to over fifty families who settled on the three-mile concession line. The community could now boast of a school, church, store, dance hall and a post office. The original settlers in 1930 included John Filo, Karl Hrchak, Andrew Janoska, Jan Sevc, Joe Lilko, Joe Ziga, Andrej Elias, and Steve Wydareny.
As word spread, more settlers arrived, including Andrej Kusmik, Steve Bosda, Paul Svos, John Hrivnak, Frank Potocnak, Joe Sirotnak, John Halak, Paul Jamisch, Matt Marcinak, Josef Svos, George Kadlecik, Mike Lovisek, Steve Cizmar, Kalman Jarabek, Andrej Rajna, Matt Garec, Harry Wasylak, Tony Gulka, Karol Urias, John Mohar, Jan Bies, Michal Bies, Andrej Kubik, Josef Bunsko, Mike Hamulak, Matt Paros, George Ollassis, Karol Dedina, Paul Kostelny, Martin Drobny, Matt Ziga, Sam Boor, Mike Gula, Andrej Kushnir, Jan Rybar, Jaroslav Nadvornik, Ivan Sulentic, John Lasan, Andrew Tapajna, Joe Dunca, George Benko, Andrew Kuhayda, Mike Prokop, Jan Babela, Joseph Zipaj, John Rusnak, Paul Michalicka, Julius Paluch, Pete Lewkulich, Ludvig Pesko, Julius Stacho, Joseph Wagner, Michal Hurajt, Josef Jakubkovic, Adam Dronzek, Andrej Zrelak, Martin Dureg, Paul Trnik, Mike Orendich, George Stacho, Mike Brodusky, Joseph Samul, George Michalek, P. Rakivec, Andrej Jacuk, Cyril Davitsky, Gus Slobodnick, and Emil Bosnick.
Bradlo 1938 Slovak Christmas Concert.
The Slovaks of Bradlo adopted Canada as their new country, but maintained some of the Old Country traditions. For special festivities they would break out the traditional clothes they had brought with them.
Ten years after its establishment, it became evident that Bradlo would not last. By 1940, the pulpwood was depleted, the growing season had proven to be too short and clay belt soils had not measured up. In addition, Canada's entry into World War II had ended the Depression. There were now paying jobs in other communities. Bradlo home­steaders began to look southward for better opportunities. One by one they left. By the late '40s, the school and post office had closed. The church was moved to Lac Ste. Thérèse where it is still in service (the original Bradlo church had burned and been rebuilt). People went to Stavert or Hearst for church services. Some settlers' homes were moved, dismantled for firewood or ultimately burned as safety hazards by the government. The last Slovak family, the Bies, moved into Hearst in 1957, ending the history of the colonization of Bradlo.
In 1997, a group of descendants organized a Bradlo Homecoming in conjunction with the seventy-fifth anniversary celebrations of the town of Hearst. These "Friends of Bradlo" were successful in having the concession road formally named Bradlo Road. They also convinced Heritage Ontario to install an historic plaque in the park at the eastern entrance to Hearst. This was unveiled on July 5, 1997, a highlight of the very successful homecoming celebrations that also involved historic displays (including the original teacher's desk from the school), receptions, a trip down Bradlo "Memory" Road, dinner and a service in the relocated Bradlo church. Many descendants of the original Bradlo settlers made the trip home, including the first teacher, Mrs. Stella (Drajanoff) Wurm, and several people born in Bradlo.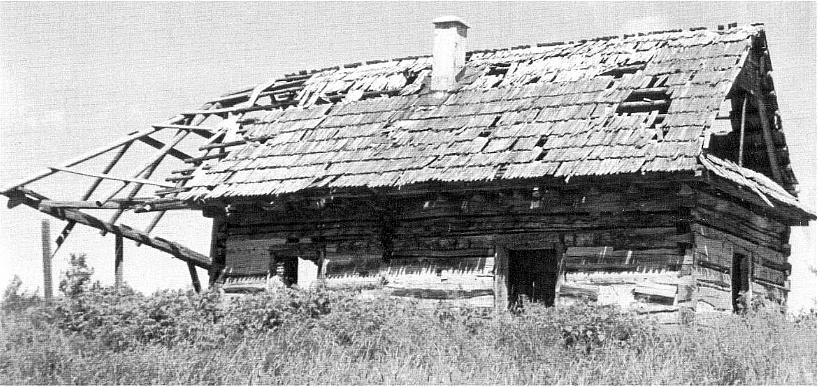 Tapajna's home in Bradlo abandoned.
---
References: Anna Bies, story written May 1, 1978;
Jan Bies' interview by Russell Siska, circa 1975;
Bradlo Memories Newsletters, 1995-1997.